Ministers of Nant-y-Ffin
The baptist cause at Nant-y-Ffin, Penycae started in 1795, with the chapel being erected in 1809 and rebuilt in 1833. In its first 150 years, Nant-y-Ffin had 15 pastors, the first being Rev Dafydd Jones, of Ffynonhenry who was inducted in 1811, and the incumbent in 1946 being Rev Elfled Stanley Cox, who was inducted in 1944.
Rev Dafydd Jones
The first pastor was the Rev Dafydd Jones, of Ffynonhenry, who was inducted in 1811. Mr Jones held the pastorate for 14 years (1811-1825), although he continued to live at Ffynonhenry.
Rev Dafydd Williams
Dafydd Williams, Soar, Llandyfaen then cared for the church for 3 years. He briefly came back after 1840 but left when he got ill, and was only there briefly during the second time.
Rev John Williams
In 1835 the call was given to Rev John Williams, Llanymddyfri. He was ordained on 23rd October 1835. He stayed for 2 years but had to resign due to the travelling distance from Llanymddyfri, and he was weak with ill health.
Rev Thomas Roberts
The Rev Thomas Roberts ministered at Nantyffin Chapel for 18 years, and died on April 10th 1855, aged only 44. He had 18 years of service. He is commemorated with a plaque in the chapel, and was buried in the lower cemetery.
Read more about Rev Thomas Roberts
Rev Thomas Williams
Rev Thos Williams of Cwmdwr was pastor of Nant-y-Ffin from 1848 to 1850. He had previously covered the chapel for a while, coming for 2 Sundays a week, while also covering Cwmtwrch.
Rev Thomas Gabriel Jones
Rev T G Jones was pastor of Nant-y-Ffin from 1853 to 1870, after having been initially ordained in 1837, but leaving in 1840 to be a classics lecture at Haverfordwest College. After T G Jones left there was a period of a year when the chapel did not have a minister.
Rev David Havard Jones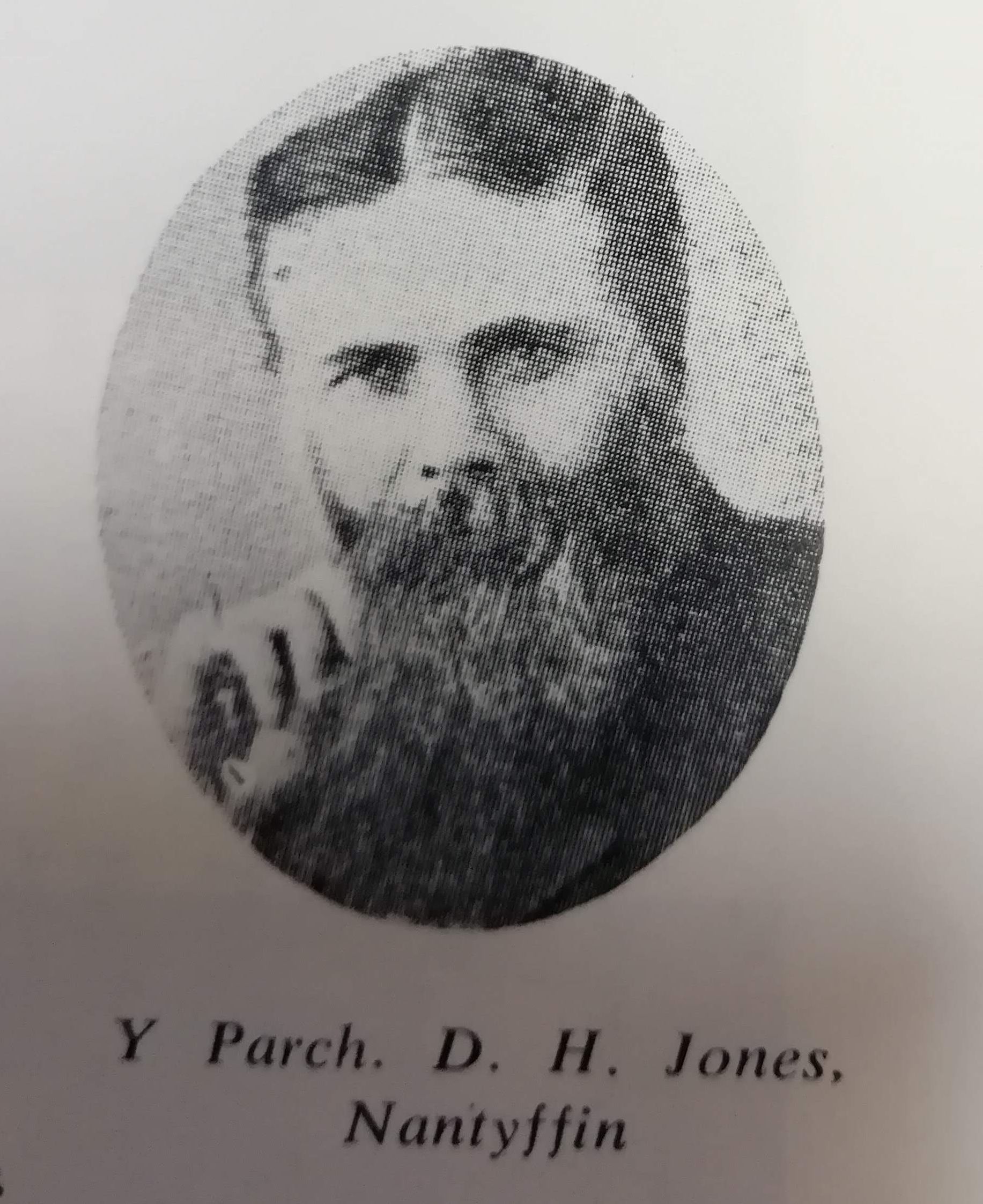 The Rev D H Jones was minister of Nantyffin Chapel for 28 years from 1871 to 1897. During this time he was also minister of Adulum Chapel, Pontardawe from 1874 to 1880. the chapel was renovated twice under his tenure, the second time in 1895-97. He died on January 28th 1902, aged 60 years. 'Gaius' was his Bardic name. He is commemorated with a plaque in the chapel, and was buried in the upper cemetery. His gravestone records 28 years of service at Nant-y-Ffin, so it is possible he continued to preach their after his retirement, since the next minister appointed was not until 1900.
Read more about Rev D H Jones
Rev Charles James Pipe
Noddfa Baptist Chapel was constructed in 1899-1900 as an offshoot of Nant-y-Ffin Chapel, Penycae with whom it shared a minister. The Rev C J Pipe, who came as minister in 1900 from Cardiff College, would thus have been minister of both Nant-y-Ffin and Noddfa. Rev C J Pipe was also minister of Moriah, Coelbren from 1911 until 1913. He left in 1917, and was minister at Tylegwyn, Cwmgarw 1917-1924 and Caersalem, Aberbargoed 1924-1930. He came back to visit Nant-y-Ffin for the 150th anniversary service in 1946.
Rev George R Davies
The Rev G R Davies was apparently not college-educated. His first charge was Jerusalem, BrynTroedgam, Margam from 1902-1904. He was minister of Bryn Seion, Cwmtwrch from 1905-1919, and of Bryn Gwilym, Cymllynfell from 1911 to 1919. The Labour Voice newspaper of 23rd November 1918 reported on a new minister for Nant-y-Ffin and Noddfa:-
The people of Cwmllynfell and district regret very much to hear of the impending departure of the Rev G R Davies Minister of Bryn Seion and Bryn Gwilym Baptist Churches. Since he came to the Cwm, Mr Davies has made a large circle of friends and by his quiet unassuming manner has won the esteem of all. He has laboured hard in the district and has done good work. Mr Davies leaves for Nantyffin and Noddfa Abercrave early in the New Year.
From the Labour Voice newspaper, 28th January 1922:-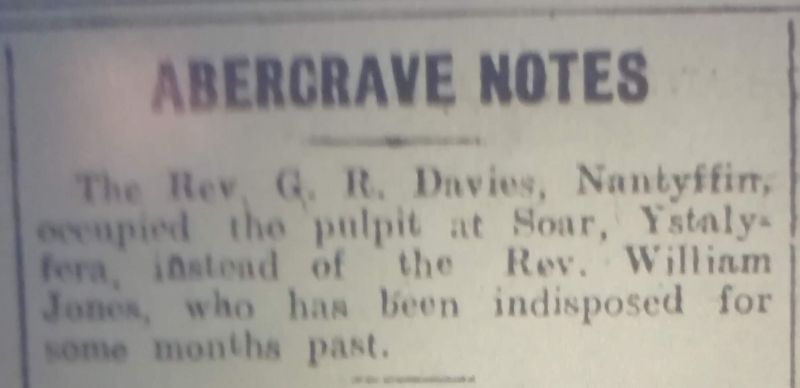 ABERCRAVE NOTES

The Rev G.R. Davies, Nantyffin, occupied the pulpit at Soar, Ystalyfera, instead of the Rev William Jones, who had been indisposed for some months past.
From the Labour Voice newspaper, 26th May 1923 reports on a total-immersion baptism in the river near to Nant-y-Ffin Chapel:-
RIVER BAPTISMAL SERVICE
On Whit-Sunday morning a baptismal service was held in the river near Nantyffin Church, where a large gathering assembled to witness the immersion of six new members by the Rev G.R. Davies, the pastor of Nantyffin. Prior to the service, Mr Davies addressed the gathering very appropriately on the subject "Baptism and to-day"
Rev G R Davies was also minister of Moriah, Coelbren from 1922 - 1927, and departed from Nant-y-Ffin and from Moriah in 1927.
Rev Rev William Morris, B.A.
Rev Rev W Morris, B.A, was appointed minster of Nant-y-Ffin in 1931, He was educated at Bangor Baptist College and his first pastorate had been Bethel and Llanfyllin 1928-1931. By the time he became minister Noddfa had become separate, but the minister of Nant-y-Ffin was now also minister of Moriah Baptist Chapel, Coelbren. He died suddenly during a service in Coelbren on 5th January 1943.
From the South Wales Voice April 8th 1939:-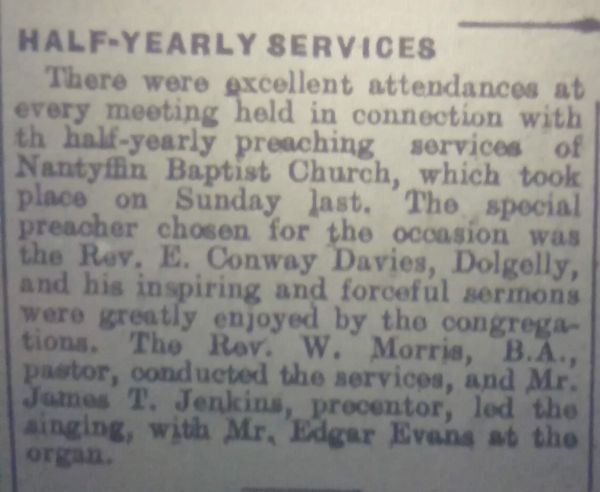 HALF-YEARLY SERVICES

There were excellent attendances at every meeting held in connecting with the half-yearly preaching services of Nantyffin Baptist Church, which took place on Sunday last. The special preacher chosen for the occasion was the Rev E. Conway Davies, Dolgelly, and his inspiring and forceful sermons were greatly enjoyed by the congregations. The Rev. W. Morris, B.A., pastor, conducted the services, and Mr James T Jenkins, precentor, led the singing, with Mr Edgar Evans at the organ.
Rev Elfed Stanley Cox
From the South Wales Voice newspaper, July 1944 comes the news of the ordination of Elfed Stanley Cox as pastor at Nantyffin, as well as at Moriah, Coelbren:-
NANTYFFIN AND COLBREN BAPTIST CHAPELS

The ordination of Mr Elfed Stanley Cox, Ammanford, as pastor of Nantyffin and Moriah Baptist Chapels takes place on Thursday July 20th at Moriah. On the previous evening a special service will be held at Nantyffin with the Rev S J Leeke, Bethesda, Swansea, as preacher.
The charge to the pastor will be given by Principal J Griffiths, Cardiff Baptist College, and Rev R R Thomas, penybank, Ammanford, will give the charge to the church.
Mr Cox was a miner before enrtering Cardiff Baptist College.
He was minister in 1946 when Nant-y-Ffin celebrated its 150th anniversary on Wednesday and Thursday, 3rd and 4th of July. He left in 1950. Sometimes, in the Llais he is referred to as Elvet Cox, which is possibly showing an Anglicisation of Elfed. The South Wales Voice 10th February 1951 reports on the search for a new minister:-
NEW MINISTER
Since the Rev E S Cox BA BD left the district for Merthyr Vale, efforts are being made by Nantyffin and Moriah Colbren Baptist Chapels to secure a Minister.

Rev R G Roberts
Rev R G Roberts was minister from 1951 for 9 years, and left for Calfaria, Morriston.
Rev Byron Evans
Rev Byron Evans came straight from college, and left for Castle Street, London. This article from the Llais February 11th 1965 is about his last sermon at Nantyffin. In saying that he had served three and a half years, it implies that the Rev Byron Evans was there from late 1961 to early 1965. Peculiarly it has his destination as somewhere in Pembrokeshire, so perhaps he went there first before moving to London.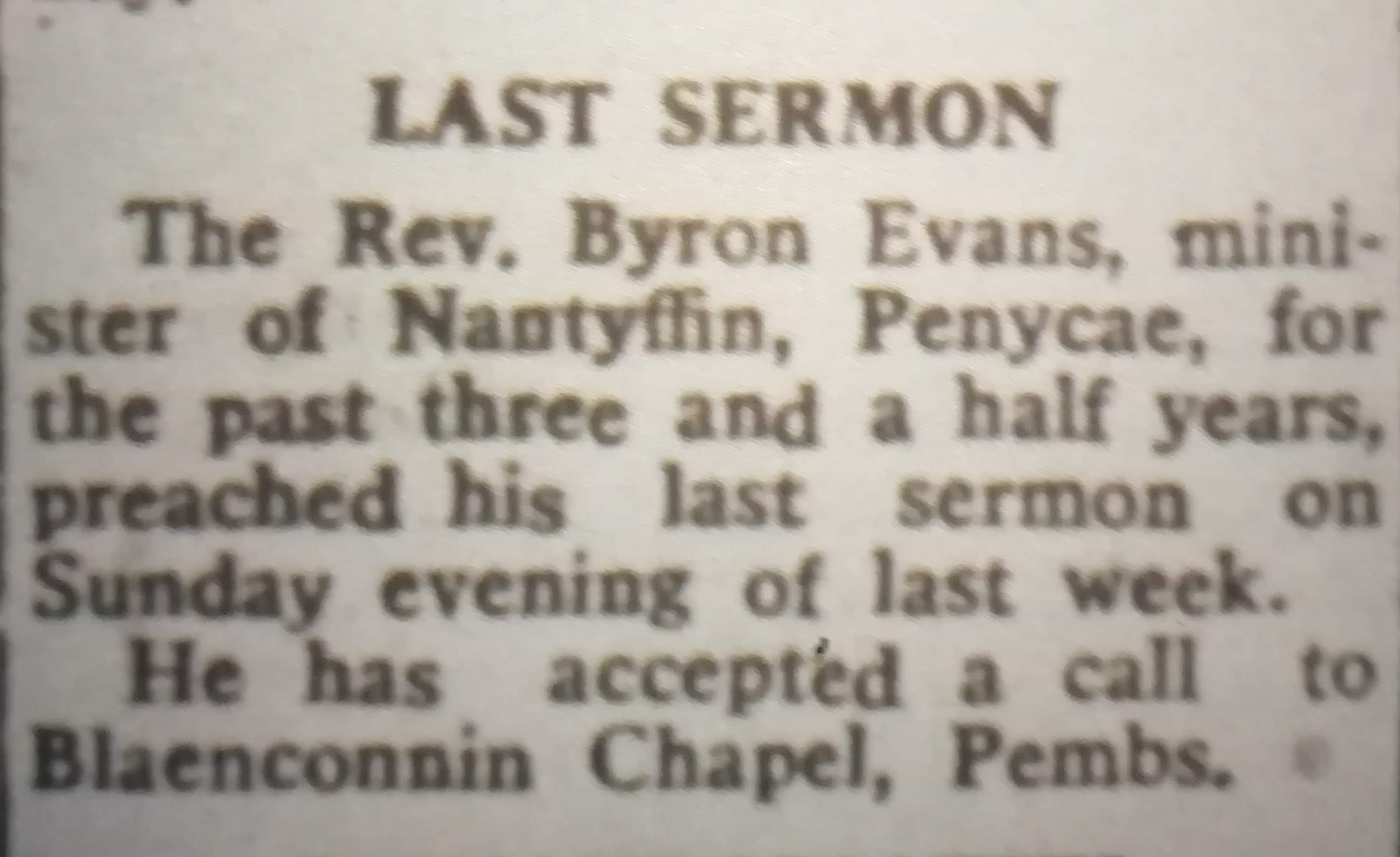 LAST SERMON The Rev. Byron Evans, minister of Nantyffin, Penycae, for thepast three and a half years, preached his last sermon on Sunday evening of last week. He has accepted a call to Blaneconnin Chapel, Pembs.
Rev Dudley Morgan
In 1964 the Rev Dudley Morgan took charge of Nantyffin, but moved after a few years to Llangadog.