Tro'r Gleien Mission Hall, Cwmtwrch
The history of Tro'r Gleien Mission Hall, Cwmtwrch.
Many converted during the religious awakening of 1904 but when a man, born on 25th August 1885 at Harddfan Lower Cwmtwrch accepted Jesus Christ as his personal Saviour on the night of 18th November 1904 in the Vestry of Beulah Chapel, his life and works would change forever. He became known as Pastor Griffiths and 85 years later he was interred in the grounds of the Mission Hall which he helped found.
His Obituary is testament to his life:
From The Voice Thursday 19th March 1970
OBITUARY: PASTOR GEORGE GRIFFITHS

One of the outstanding Christian gentlemen in the Upper Swansea Valley, Pastor George Griffiths, for so long a period the shepherd at the Cwmtwrch Mission Hall, died on Wednesday.
Born on 25th August 1885 at Harddfan Lower Cwmtwrch George Griffiths commenced work when 12 years of age as a collier's boy at Brynhenllys Colliery. In 1909 with others, following a spiritual revelation, Mr Griffiths directed the Tro'r Gleien Mission Hall; and over the years he has been a beloved shepherd and pastor.
Sympathy is extended to the family in their loss.
From The Voice Thursday 26th March 1970
THE PASSING OF A PRINCE: By Pastor Ivor Hopkins Mission Hall

The funeral of Pastor George Griffiths, Delfryn Lower Cwmtwrch took place on Saturday at Tro'r Gleien Mission Hall Cwmtwrch. For 58 years from 1912 to 1970, he had faithfully exercised a pastoral care over the church which meets at the Mission Hall. It is with this place of worship, which he and 12 others founded, that his name will long be remembered.
It is good to give honour where honour is due; Pastor Griffiths was a great man of God because he knew, loved and served the God of great men. To God be the glory for the fragrance and fruitfulness of His well beloved servant, who was a prince in Israel.
More than 300 people gathered to pay their last respects to a true servant of Jesus Christ. More than 30 ministers attended, coming from as far afield as Scotland and from all over the principality.
Christians from many parts and from all denominations joined with local believers, with ministers and missionaries, saint and sinner, men and women, young and old. All united with the family to do homage to one who was a beloved father. A father to his own five children who will surely miss him and a father in God to countless others who have been touched and blessed by his Spirit filled life.
Many ministers took part in the service in the presence of a capacity congregation; addresses being given by Rev Denis Young Cwmtwrch, Pastor Elwyn Davies Ystalyfera, Pastor Ivor Hopkins Cwmtwrch, and Rev D Elwyn Davies general secretary for the Evangelical Movements of Wales. All paid sincere tribute to the memory of a man of God. As an epilogue to the service Mr Idris Davies, the well-known Evangelist, preached a brief gospel message, a fitting farewell to one whom so loved the Person and work of Jesus Christ.
Many will mourn the passing of Pastor Griffiths, the world will be a poorer place without him but we rejoice that heaven will be the richer. And the number who bade him farewell below would be but a fraction of the number of those who welcomed him above.
"I have fought a good fight, I have finished my course, I have kept the faith; henceforth there is laid up for me a crown of righteousness, which the Lord the righteous Judge, shall give me at that day: and not to me only but unto all them also that love his appearing" 2 Timothy IV 7-8
Mourners at the funeral: Sam, Leslie, and Aneurin sons; Minnie, Gwennie daughters; Eurwen, Mary, Betty, Phyllis daughters-in-law; Raymond, Joe sons-in-law; Robert, Margaret, Barrie, Maureen, Ian, Gwenda, Kay, Anne Bethan grandchildren; William Edgar brother; Ernie brother-in-law; Mary cousin: Sarah, Alcwyn, Glyn, Gwennie May, Gwennie, Gwyneth, Edgar, Jenny, Maggie, Millie, Nan, Tom, Joan, David George, Jenny, Eric, Olga, Gwenfa, Alun, Sam, Arthur, John, Jack, Les nephews and nieces.

His wife Sarah Anne nee Jones, whom he married in 1909, died in 1965 and is also buried within the grounds.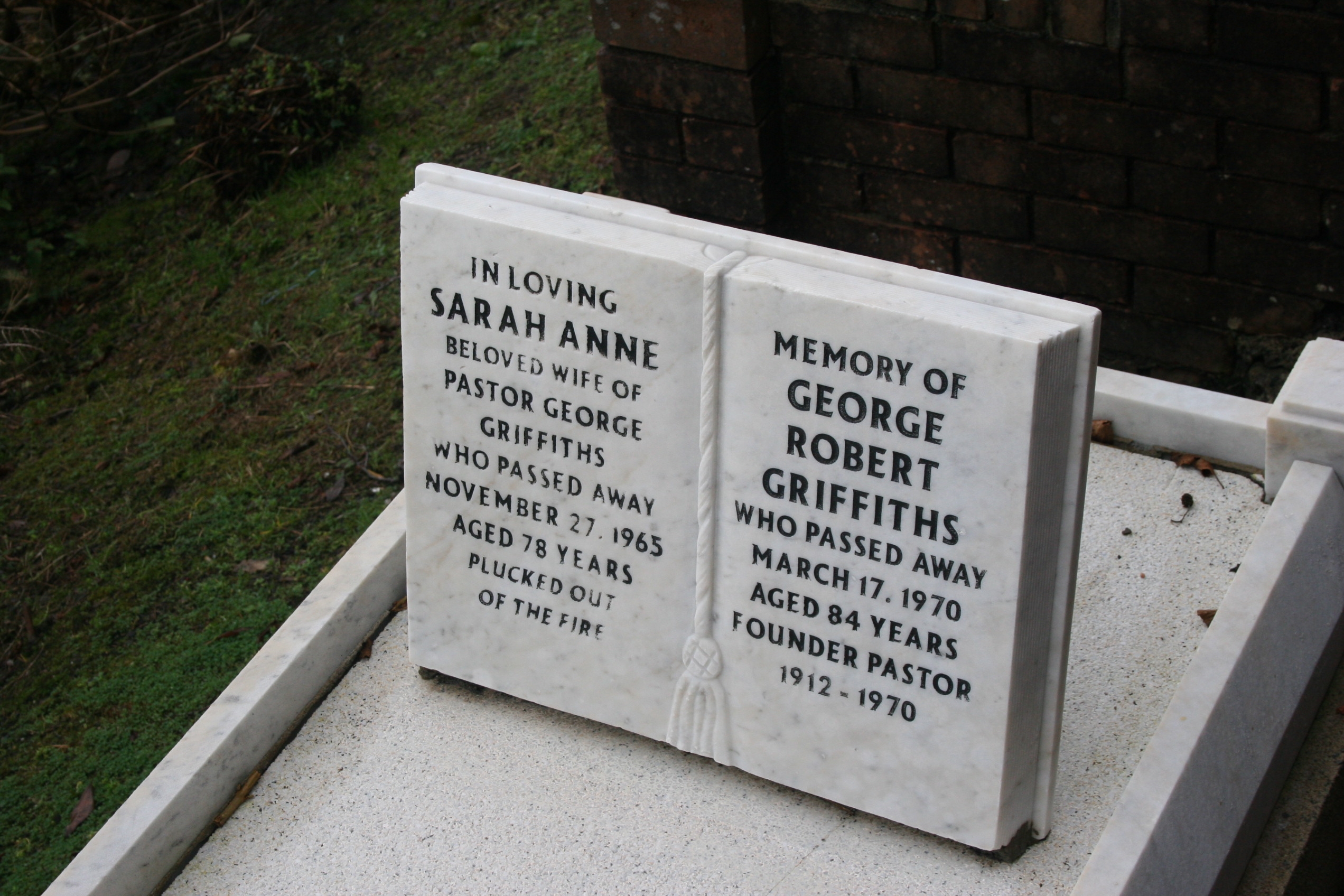 The grave and headstone of Pastor George Robert Griffiths and his wife Sarah-Anne
From The Voice Thursday 9th December 1965
CWMTWRCH:
FITTING SPOT FOR BURIAL OF MRS S A GRIFFITHS

The funeral of Mrs Sarah Anne Griffiths of Delfryn Graigmaespica Lower Cwmtwrch, who died at the age of 78, took place at Tro'r Gleien Mission Hall Lower Cwmtwrch, the interment being in a specially consecrated ground in the Mission Hall grounds.
This was particularly fitting, for Mrs Griffiths was one of the 13 founders of the Mission Hall and had been a stalwart worker for the cause. She was the wife of Pastor George Griffiths, whom she married in 1909 and had consistently supported him during his long years of service for the Master at Tro'r Gleien. Mrs Griffiths was the daughter of the late Mr and Mrs David Jones of Grovesend Gorseinon, a well-known Lay Preacher, whose ministry was much used by God.
She professed salvation during the 1904 awakening and has been a helpmate indeed to the Pastor. Throughout the 56 years of their married life, she has devoted herself unsparingly to her family, thus enabling the Pastor to apply himself without reserve to the work of the Lord.
The attendance at the funeral was evidence of the high esteem in which Mrs Griffiths was held. The Mission was filled and many were unable to obtain admittance.
Mourners at the funeral were: Pastor George Griffiths husband; Sam, Minnie, Les, Gwennie, Aneurin sons and daughters; Arthur, Willie, Ernie brothers; Eurwen Mary, Phyllis, Betty daughters in law; Raymond, Joe sons-in-law; Annie, Katy, Lizzie, Irene, Bessie, Lizzie Mary sisters in law; William Edgar brother-in-law; Kay, Ann Margaret, Robert, Barrie, Ian, Terry grandchildren; Gwennie may, Gwennie, Gwyneth, Maggie, Sarah, Sal, Vera, Alma, Beryl, Nelly, Mary, Jenny, Olga, Millie nieces; Glyn, Edgar, Tom, Sam, Bramwell, Raymond, Gwyn, Jack, Roy, Glyn, David George, Eric, Alcwyn, Alun nephews.
The other burial within the grounds is that of Samuel D Griffiths and his wife, Pastor Griffith's brother:
From The Voice Friday 24th February 1961
SAMUEL D GRIFFITHS

One of the founders of the Mission Hall at Cwmtwrch has died in the person of Mr Samuel Griffiths, Maespica House Lower Cwmtwrch.
The funeral was conducted by Rev Arthur Prichard, Gareth Davies, Maldwyn Munday, Alun John, Cynwyn Davies, Pastor's Elwyn Davies, Griffith W George, Mr Haydn Lewis and Mr John C Hughes.
Mr Griffiths was the 1st to be buried on land adjoining the Mission Hall reserved for the few pioneer members. He was 84 years of age.
Mourners at the funeral were: Katie Griffiths widow; David George and Eric, Jennie, Olga, Millie sons and daughters in law; Alun and David Emrys grandson; David Leyshon, George, William Edgar brothers; William Evans brother-in-law; Sarah and, Annie, Lizzie Jane sisters in law; Mrs Ted Rees, Mrs Maggie Jane Maddock cousins; Gwennie, Sarah, Gwennie May, Maggie, Gwyneth, Minnie, Jennie, Gwennie, Gwenda, Glyn, Will, Jim, Gwyn, Tom, Les, Aneurin, Gethin, Raymond, Joe, Alcwyn, David, Thomas, Lloyd, Barry, Ian, Terry nieces and nephews.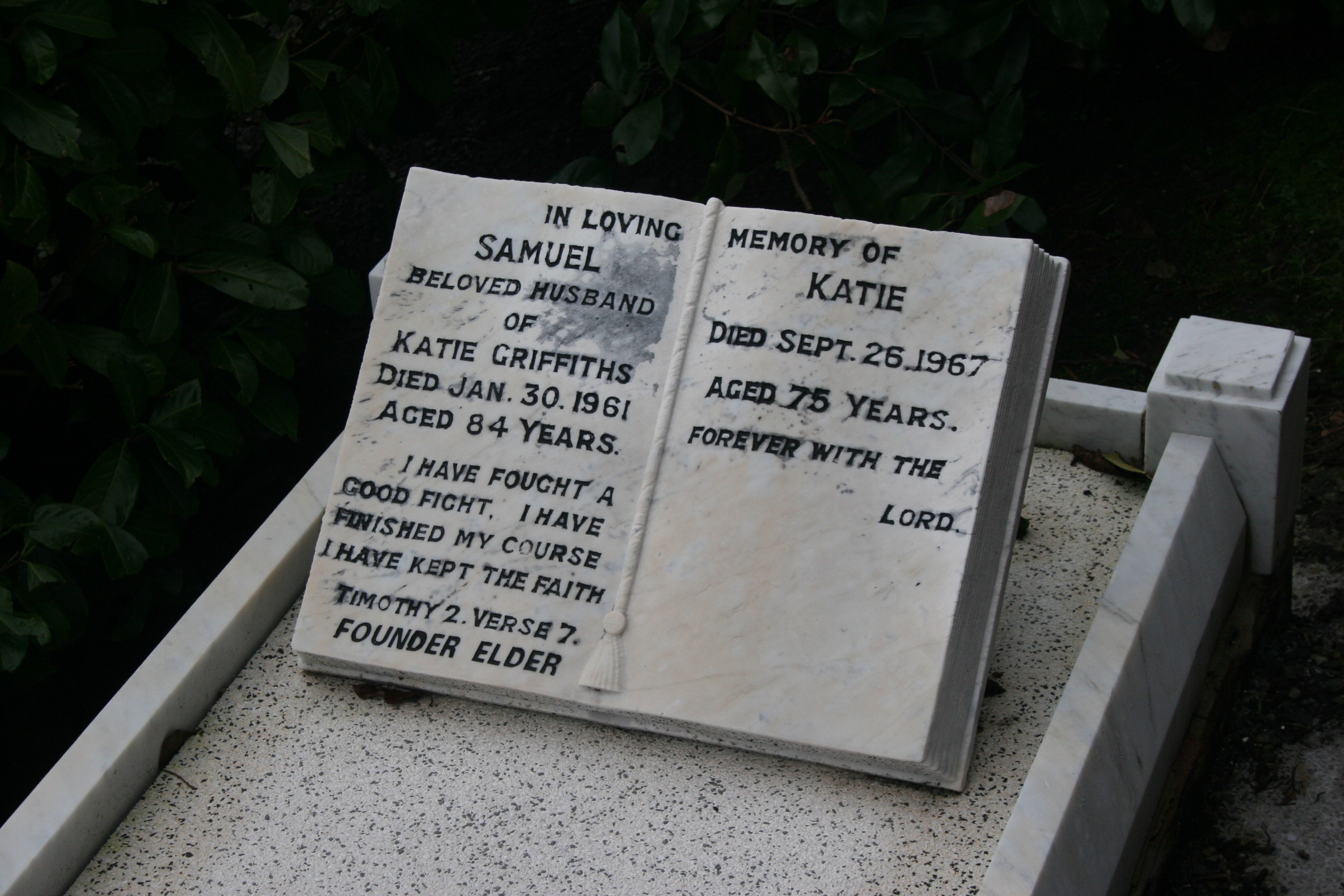 The grave and headstone of Samuel and Katie
From The Voice Thursday 19th October 1967
CATHERINE GRIFFITHS nee EVANS

The funeral of Mrs Katie Griffiths Ger yr Afon Lower Cwmtwrch, late of Maespica Cottage, who died aged 75, took place at Tro'r Gleien Mission Hall special burial ground, the officiating ministers being Pastors George Griffiths, Elwyn Davies, Haydn Lewis, and Edward Dakin. A service was held at the Mission Hall.
Mrs Griffiths was the widow of Mr Samuel Griffiths Maespica Farm and one of the founders of Tro'r Gleien Mission Hall. A native of Upper Cwmtwrch she was a faithful member of the Mission Hall.
The mourners were: David George, Jenny, Eric, Olga sons and daughters in law; Millie daughter-in-law; Alun, David Emrys grandson; Barbara, Julie great granddaughters; Willie, Muriel brother and sister-in-law; Granville, Neville nephews; Lizzie, Willie, Annie, Sarah Jane, Rachel, Katie, Maggie, Griff Rowlands cousins; Pastor George William Edgar brother-in-law; Jane, Annie, Lizzie sisters in law; Sarah, Alcwyn, Gwennie, Brinley, Glyn, Griff, Gwyneth, Gethin, Edgar, Jennie, Gwennie, May, Tom, Minnie, Raymond, Gwenda, Gwennie Joe, Les, Mary, Aneurin, Betty nephews and nieces.
David Leyshon brother-in-law was unable to attend owing to illness.
Tro'r Gleien Mission Hall
The Mission Hall was constructed in 1912, and rebuilt in 1962.