Berea Chapel, Cefnbrynbrain
Cwmllynfell
Berea Chapel was a corrugated building on the borders of Cefnbrynbrain, on the Brynamman side of Cwmllynfell. It was located at the side of the road, but has been demolished some years ago now, and replaced with a memorial stone, marking where it used to stand.
From the Coflein online compendium of local chapels:-
BEREA WELSH INDEPENDENT CHAPEL and SUNDAY SCHOOL CEFNBRYNBRAIN
Berea Independent Chapel is a corrugated zinc-sheeted chapel, known as the "Iron Chapel" and a branch of Cwmllynfell Independent Chapel. Berea closed during the 1980's and in 1997 remained disused.

The website of John Ball states that it was a a branch of Cwmllynfell Independent Chapel and closed in the 1980s, and that it was constructed in 1929, and demolished in 2001. His webpage has a great photograph of the chapel on it. Thank You to John Ball for giving us permission to show the photograph here:-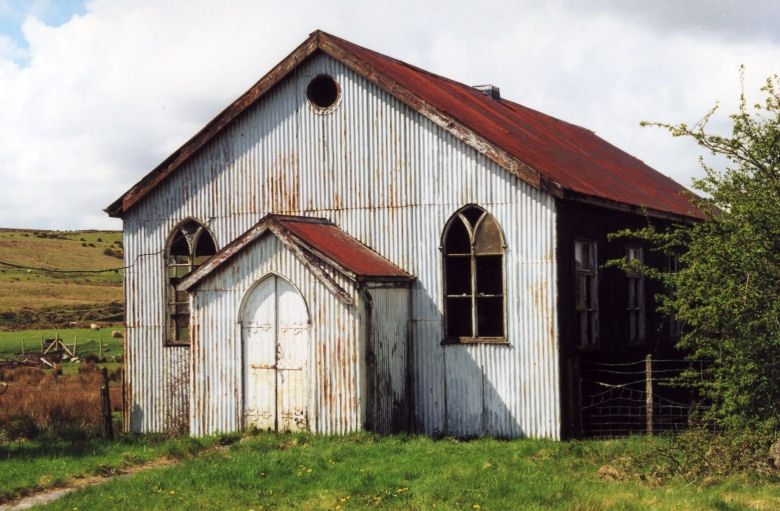 Wikipedia explains about the name of Berea, thus:-

Berea or Beroea was a city of the Hellenic and Roman era now known as Veria (or Veroia) in Macedonia, northern Greece. It is a small city on the eastern side of the Vermion Mountains north of Mount Olympus. The town is mentioned in the Acts of the Apostles, where the apostles Paul, Silas and Timothy preached the Christian gospel.
I PHOTOGRAPHED THE PLATE ATTACHED TO THE ROCK IN 2007 AFTER THE CORREGATED BUILDING WAS DEMOLISHED. UNFORTUNATELY I NEVER TOOK A PHOTOGRAPH OF THE BUILDING.
Val Trevallion

| | | |
| --- | --- | --- |
| | | |