Bethania Baptist Chapel, Crynant
Bethania Baptist Chapel in Crynant was built in 1907, located opposite the school on Woodlands Road, but has now been demolished and been replaced by a large private house. When it closed, its remaining congregation united with Saron Independent Chapel, Crynant.
Bethania's ministers include John Morgan, who was the first minister, in office from 1910 to 1923; this was probably his only church, and he died in 1927. He was followed by H.H. Lewis from 1924-1937, who also had charge of Salem, Seven Sisters from 1924 (as listed in the Welsh Baptist Diary). After 1937, H.H. Lewis is only shown as minister of Salem, Seven Sisters, so presumably after this date Bethania, Crynant either got its own minister or this is when it began its joint pastorate with Calfaria, Ystradgynlais.
Welsh Baptist Diary of 1928 carried an Obituary for Reverend John Morgan. Translated from the Welsh, it reads:-
MORGAN, JOHN - His birthplace was Sciwen, and he was baptized at Calfaria. It was there that he began to preach. He was ordained at Bethania, Crynant, Neath, in 1910. He then labored until the end of his life, which took place May 28, 1927, at 49 years. age. He suffered much from physical weakness but was greatly comforted by the kindness of his care.
By the 1960s, Bethania was in a joint pastorate with Calfaria Baptist Chapel, Ystradgynlais. The minister, H. Spencer Morgan was the son of John Morgan, the first minister of Bethania.
The report of the Rev H. Spencer Morgan's death is carried in The Voice newspaper, 14th April 1966 and includes biographical passages:-
CRYNANT NEWS

The death of Reverend H Spencer Morgan, Minister of Bethania Baptist Chapel, Crynant, and Calfaria Chapel, Ystradgynlais, occurred suddenly at his home, "Y Gorlan", School Road, Crynant.
Mr Morgan who was 64 years of age was educated at Pagefield College, Carmarthen, and the Baptist College, Bangor. He was ordained at Calfaria Chapel, Gilfachgoch, in July 1929 where he ministered for 19 years, married, and raised his family.
In September 1948 they left this country and settled in Sidney, Australia, where Mr Morgan became minister of Petersham and Sutherland Baptist Chapels for 4 years. He started a Sunday school at nearby "Gymea" which became the nucleus of a new church later.

MOTHER TONGUE

Mr Morgan worked with great vigour and preached with his usual "Welsh Hwyl". He was not happy with the English language and longed to return to Wales to preach in his mother tongue.
"Hiraeth" for the "Old Country" prevented his settling in Australia for more than 4 years.
The family returned to Wales, where Mr Morgan received a call to minister at Bethania, Crynant, where his father, the Rev John Morgan, was the first minister, and Calfaria, Ystradgynlais, where he preached with a richness of experience and fervour, never sparing himself in any form of ministerial work.

"HEAVEN'S GAIN"

The Reverend Spencer Morgan will be greatly missed, but "earth's loss is Heaven's gain".
He was an unassuming, shy man by nature, disliked the limelight, and was always happy to serve cheerfully in the background. His talent as a preacher is known in all the churches he visited. His conviction was profound and truly he lived for the "cause" he loved so well, and for the work of the Lord.
Mr Morgan preached at a memorial service and administered his final communion at Calfaria, Ystradgynlais.
His memorial will be that the churches should "be strong in the Lord and in the power of his Might and having done all to stand firmly in the Faith"
Mr Morgan is survived by his wife, a son, and a daughter.
---
The photograph below shows the house that has now been erected opposite Crynant School, where Bethania Baptist Chapel used to stand.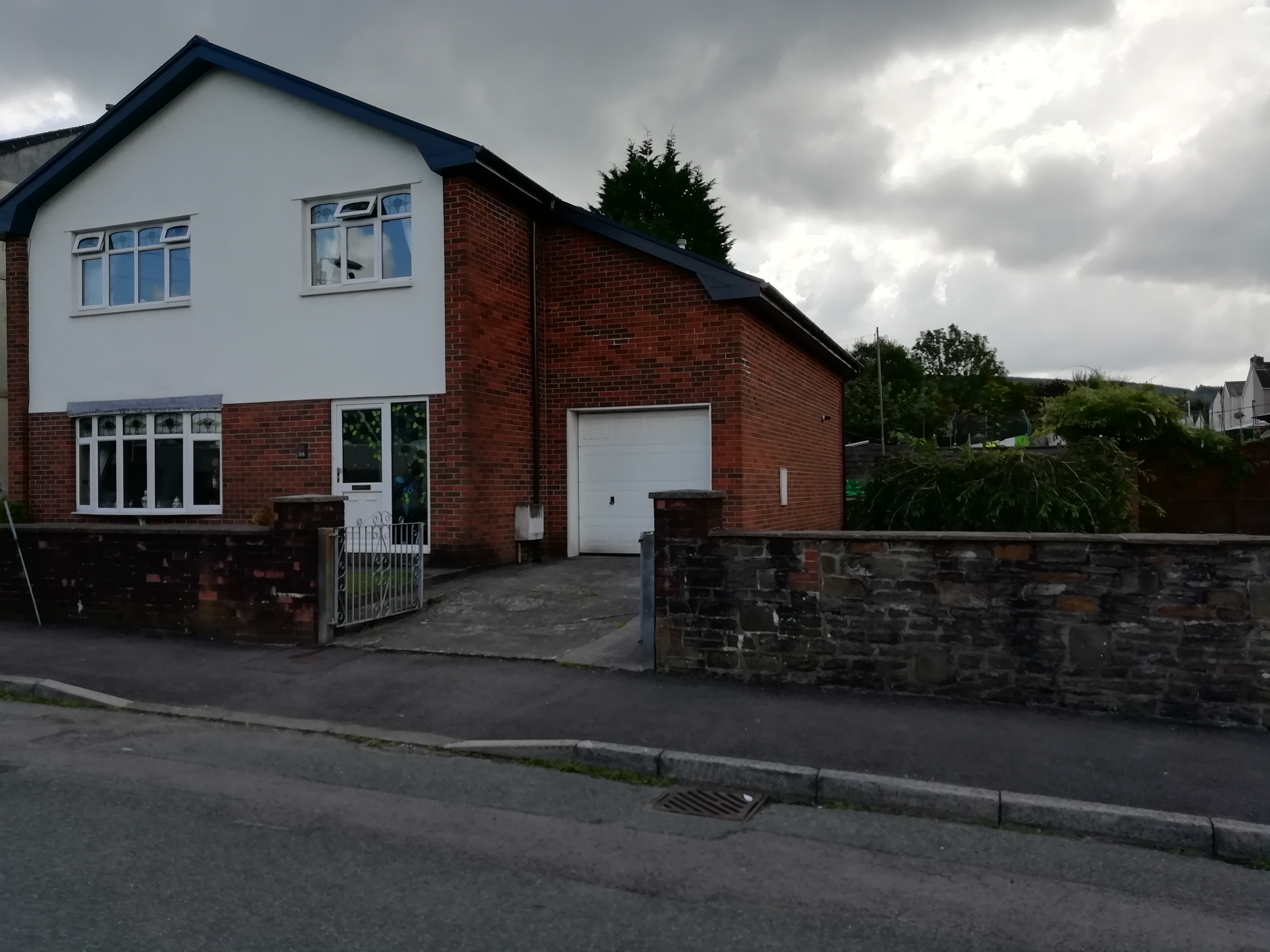 ---
From the Llais
The Llais newspaper had always included a round-up of happenings at local churches and chapels, even when these were not part of any particular story. Sometimes they advertised forthcoming events, and at other times who was preaching, or had preached there recently.
This article from June 1958 records the Baptist circuit's Cymanfu Ganu, a musical celebration. As can be seen Bethania Baptist Chapel was part of the Cwm Dulais Baptist circuit together with Salem, Seven Sisters and Calfaria, Maesmarchog:-
CHAPEL FULL FOR BAPTIST CYMANFA

Last Sunday the annual Gymanfa Ganu of he Cwm Dulais Baptist Chapels - Salem, Seven Sisters; Bethania, Crynant; and Calfaria, Maesmarchog, was held at Salem Chapel, Seven Sisters. The conductor was Mr Peter Phelps, Llansamlet, and the organists Miss G Griffiths (Salem) and Mrs Jones (Calfaria).
The singing was of an exceptionally high standard and the festival generally rated as beng the most outstanding for many years.
Throughout all three sessions - morning, afternoon and night the chapel was full to capacity, many people failing to gain admittance.
Rev D. J. Thomas presided during the morning and John Evans recited a psalm on behalf of Salem Chapel.
For the afternoon Mr John T Lewis, Banwen, chairman, and Miss Janice Davies recited a psalm on behalf of Maesmarchog.

Maesmarchog appears is synonomous with Dyffryn Cellwen, and Calfaria Baptist Chapel was located on Main Road, about halfway along towards Banwen.