Rev. Robert Beynon of Carmel Chapel
The Rev Robert Beynon was the son of Thomas and Anne Beynon and was born at Pontyberem in 1881. He married Sarah Rebecca Thomas and they had two daughters. He became minister of Carmel Chapel, Abercrave in 1910 and served through to his death in 1953, with only a slight intermission in 1950 when he was taken ill whilst he was at Aberystwyth and had to relinquish his duties for six months. He died on 12th February 1953 and was buried in the graveyard of Carmel Abercrave.
---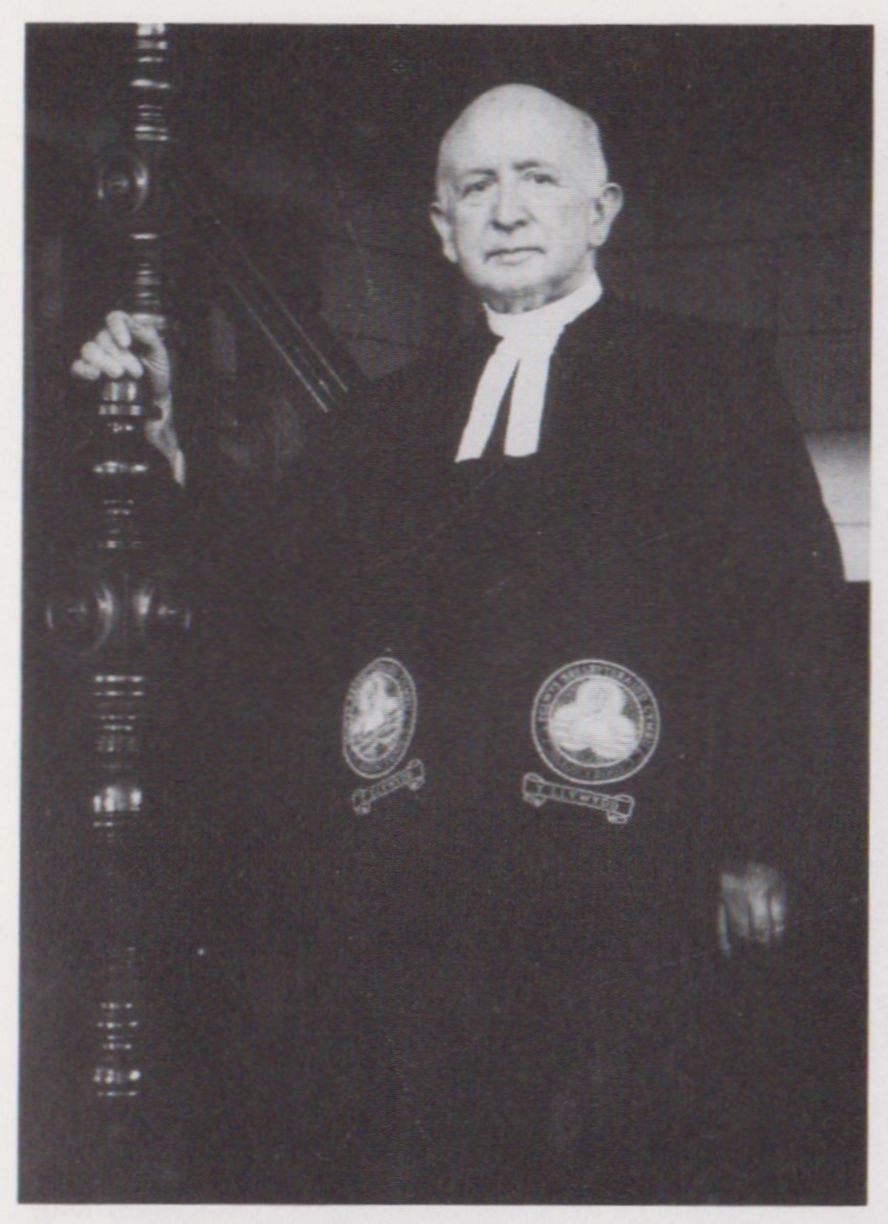 Reverend Robert Beynon was an accomplished man of the Welsh arts, being a writer, poet and bard. He competed in Eisteddfods and won the chair at local events, before winning the crown at the National Eisteddfod held in Ammanford in 1922.

Below are a couple of newspaper articles reporting on his various successes and achievements, latterly including being elected Moderator of the general assembly of the Welsh Presbytarian Church in 1951.
Photograph of Rev Robert Beynon B.A., with thanks to T.J. Davies and his book 'FACES AND PLACES OF THE PARISH OF YSTRADGYNLAIS'
---
In the Llais newspaper of July 7th 1945 we learn of the death of Sarah R Beynon, the wife of the Rev Robert Beynon:-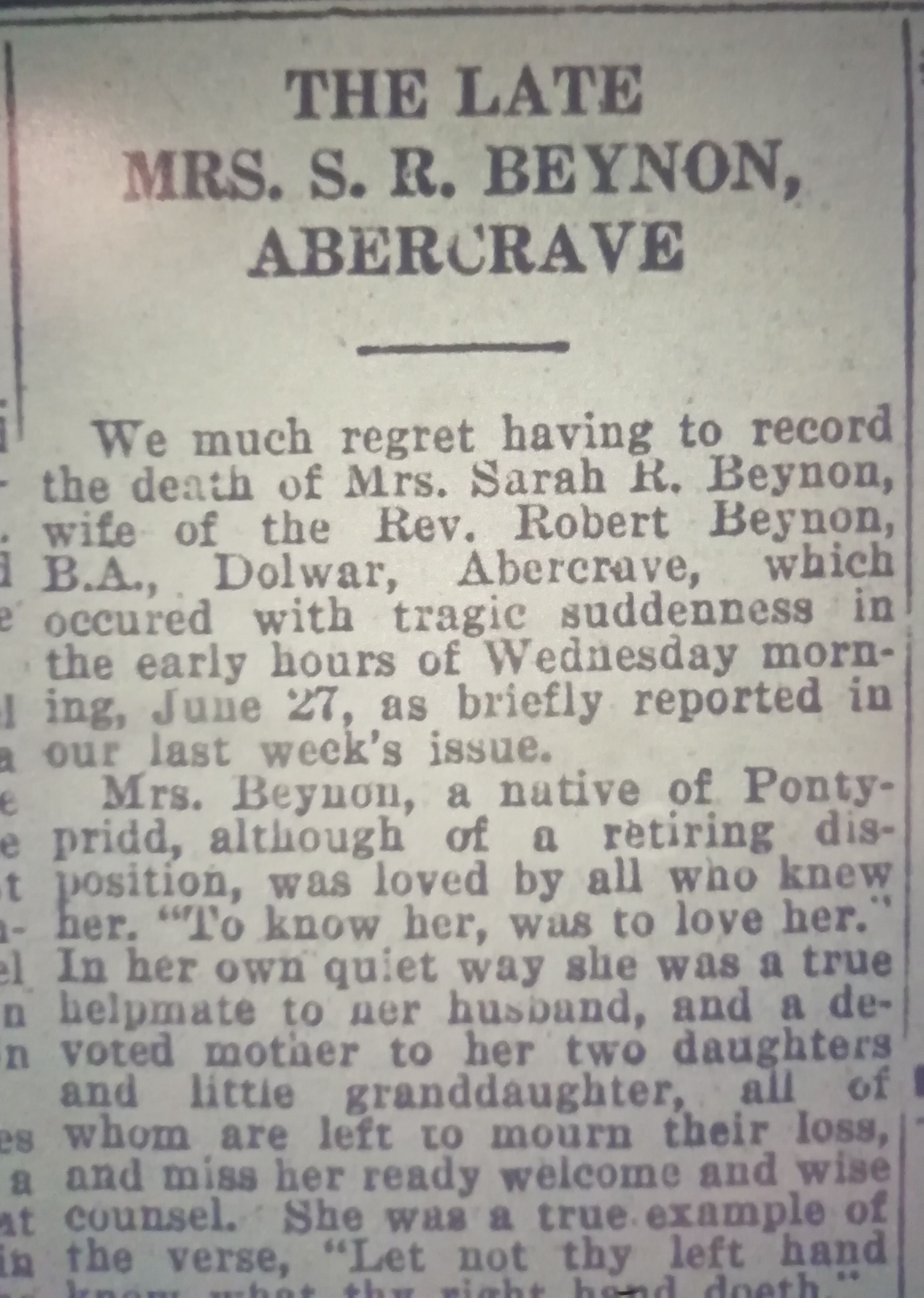 THE LATE MRS S R BEYNON, ABERCRAVE

We much regret having to record the death of Mrs Sarah R Beynon, wife of the Rev Robert Beynon, BA, Dolwar, Abercrave, which occured with tragic suddenness in the early hours of Wednesday morning, June 27th, as briefly reported in our last week's issue.
Mrs Beynon, a native of Pontypridd, although of a retiring disposition, was loved by all who knew her. "To know her, was to love her." In her own quiet way she was a true helpmate to her husband, and a devoted mother to her two daughters and little granddaughter, all of whom are left to mourn their loss, and miss her ready welcome and wise counsel. She was a true example of the verse, "Let not thy left hand know what the right hand doeth".
The many secret kindnesses and acts of mercy performed by Mrs Beynon were known to no one, not even her immediate family. And so passes from our village a great friend and comforter - an irreparable loss to her own family and the village in general.
The funeral, which was public, took place at Carmel, Abercrave, on Saturday, June 30, and was a fitting climax to the 33 years she had spent there, quietly yet faithfully assisting her husband in his many activities. Mr Jack Walbancke, son-in-law, was unable to attend the funeral as he is serving with H M Forces in Italy.
The service both in Dolwar and Carmel was conducted by Rev D G Jones, Pontardawe, assisted by Revs Haydn O John, Pontyberem, D J Jones, Morriston, Isaac Morris, Ystradgynlais, Llewellyn Davies, Abercrave, Elvet Cox, Colbren, W E Jones, vicar of Abercrave, D R Beynon, Ystalyfera, Glandon Davies, Abercrave.
Other ministers and clergy present were: Revs W P Jones, Cwmtwrch, R Hughes, Cwwmrhydyceirw, T Lloyd, Brynamman, Glanville Davies, Cwmgiedd, Glyn Jones, Penrhos, I Jones, Merthyr Vale, L M Lewis, Crynant, O Williams, Ystradgynlais, Dewi Morgan, Defynnog, Hubert Davies, Ystradgynlais, Idris Lewis, Llangennech, J W Jones, vicar of Merthyr Cynnog, Bonsall Edwards, vicar of Callwen, D L Williams, rector of Ystradgynlais, J J Hughes, vicar of Ystalyfera.
Family mourners were: Rev R Beynon, husband; Mrs E J Walbancke and Miss M Beynon, daughters; Ann Walbancke, granddaughter; Mr S Walbancke, Mr and Mrs S Thomas, Pontypridd, brother and sister-in-law; Mr D J Thomas, Pontypridd, brother; Mrs G Rose, Pontypridd, niece; Miss W Beynon, Pontyberem,, sister-in-law; Mr D Davies, Pontyberem, brother-in-law; Misses M and R Davies, Pontyberem, nieces; Mr and Mrs F Walbancke and family.

---
In the Llais newspaper of June 19th 1914, was to be found the following story regarding the exploits of Reverend Beynon of Carmel Chapel:-
REV R BEYNON'S SUCCESS
Heartiest congratulations are tendered to the Rev Robert Beynon, B. A., pastor of the Carmel C.M. Chapel, who has had no less than three eisteddfod successes during the week, winning the chair for the poem in each. At Caerphilly on Monday, the rev. gentleman took the prize for a beautiful work entitled "The murmur of the sea," and further successes were at Aberamman on Tuesday and Treorchy on Wednesday. At each competition a National winner acted as adjudicator.

---
The South Wales Voice newspaper of 16th June 1951 reported on the honour bestowed upon Reverend Beynon of Carmel Chapel, Abercrave:-
DISTINCTIVE HONOUR CONFERRED UPON VALLEY PREACHER

What is considered the highest honour and a rare distinction was unanimously conferred upon Rev Robert Beynon B.A., Carmel Abercrave, when he was chosen Moderator-elect of the Welsh Presbyterian Church in Wales at a conference of the General Assembly held at Llanelly, last week. Mr Beynon was born at Pontyberem in 1881 and educated at the Collegiate School, Pontypridd, the University College Cardiff and the Theological College Aberystwyth; he took up his present ministry in 1910.
He is known throughout Wales and over the Border as a forceful and eloquent preacher, qualities which he acquired when very young, gaining prominence as a boy preacher and drawing large congregations.
He is a man of letters and a bard of high repute, having won the 'Crown' at the National Eisteddfod in Ammanford in 1922.
Among the large number of offices he has held, some of which he still holds are: member of the New Hymn Book and new Children's Hymn Book committees; editor of the 'Drysorfa', and Moderator of the West Glamorgan Presbytery; an author of works on religious subjects, his Commentary of the Psalms is an indication of his outstanding ability as a writer.

---
The South Wales Voice newspaper of Friday 13th February 1953 records the death of Rev. Robert Beynon. It remarks on the sad fact that the Rev Beynon had been a leading light in getting the 1954 Eisteddfod to Ystradgynlais, but that he would not be there to enjoy it.
CROWN BARD WILL NOT SEE THE EISTEDDFOD HE BROUGHT TO THE VALLEY

A GREAT SON OF WALES ROBERT BEYNON, GIANT OF PULPIT, DIES IN MORRISTON HOSPITAL

The Rev Robert Beynon Abercrave dead: he died at Morriston Hospital early yesterday morning and with his death Wales has lost one of the greatest creative minds of the century.

He was recognised as one of the greatest preachers, not only in his own Connexion but was also an acknowledged giant of the pulpit among all denominations in Wales. For the Rev Robert Beynon was above everything else, a great preacher and it was as a preacher that he wanted to be known and to be remembered by his own people and nation.

Not only was he a great man in the pulpit but he was also great in everything he did. He was a theologian of note and wrote one of the finest commentaries on the Psalms which has ever been published in the Welsh language.

He was a Crown Bard of the National Eisteddfod of Wales and was given his Crown at Ammanford in 1922 for a great "Pryddest" entitled "Y Tannau Coll".

The "Pryddest" itself is an epitome of his own life - deeply religious, lyrical in texture and great in its simplicity.

So was the Rev Robert Beynon, a man who, despite his distinguished achievements, remained unspoiled and unsullied, kind and generous, strong and steadfast in his beliefs yet innocent as a child.

Everyone readily acknowledges the fact that it was due to the Rev Robert Beynon, more than anyone else that the National Eisteddfod of Wales was secured for the Swansea Valley in 1954.

It is true that great preparatory work had been done but a week before the National can Eisteddfod was held at Aberystwyth, a representation from the Ystradgynlais District Appeal Committee met three men in conclave and asked them to be their official representatives, to place before the National Eisteddfod Council the appeal to bring the Eisteddfod to Ystradgynlais in 1954.

GREAT AND HUMBLE

There can be no question that the brilliance of the speech delivered by the Rev Robert Beynon, which was broadcast and heard in many of the homes in this locality, undoubtedly turned the balance in favour of Ystradgynlais at Aberystwyth.

It was a memorable day and no one rejoiced more in the victory than the great and humble Minister from Abercrave. From that day onwards is heart was full of joy, full of plans for the coming great event.

On many occasions he would be found discussing the forthcoming Eisteddfod. With Mr Tudor E Watkins and Dr Stephen J Williams, he was unanimously invited by the Executive Committee to become a president of the Eisteddfod. He was also appointed chairman of the Literary Committee and it was a sheer joy to be present at those meetings with the Rev Robert Beynon presiding, leading the discussion on literary questions and spicing the proceedings with an unparalleled humour. He turned the meetings of the Literary Committee into little cameos of perfection.

The Rev Robert Beynon's great work as a pallet was recognised by the Literary Committee at the Eisteddfod. Although he had won the Crown as far back as 1922, he had never been asked to adjudicate the Crown Poem Competition at any National Eisteddfod.

The committee named and even begged, Mr Beynon to accept the honour of being an adjudicator at Ystradgynlais but despite every persuasion he declined. He argued that such an honour should be given to other poets living outside the Eisteddfod area and reluctantly the Eisteddfod Literary Committee accepted his refusal.

FAR FROM WELL

On 2nd January 1953, he led a delegation from the Literary Committee before the members of the Literary Committee of the National Council of the Eisteddfod at Cardiff. He was far from well that day but nothing could prevent him from going to Cardiff to present the Literary Program which he as chairman had piloted through in the committee. The work of the Literary Committee was given a great reception at that meeting in Cardiff and at the end of a long sitting Mr Beynon expressed his great joy that things had gone so well.

That afternoon he planned ahead. He thought that the National Eisteddfod of Ystradgynlais and District would be an outstanding success. In his own rear, he had worked towards that end and he admitted that he would even think and dream of its success.

It is now a great tragedy that the Rev Robert Beynon will not see the fruition of his great work. His speech at Aberystwyth did its work but he will not see the fulfilment. But, in one way, the pavilion, when erected at Ystradgynlais and the programme of the Literary Committee, will stand as a monument to the devotion, enthusiasm and vision of the Rev Robert Beynon.

RELIGIOUS WORK

Mr Beynon, who was 71, was born at Pontyberem, was educated at Trefecca College and graduated at the University College of Wales Cardiff. He was called to become a Minister at Carmel Chapel Abercrave, 42 years ago and despite many "calls" to other chapels he chose to remain at Carmel and served faithfully its members throughout the whole period.

The Presbyterian Connection in Wales bestowed upon him all the highest honours. In 1948, he delivered in "Y Ddarlith Davies" on the subject "Y Ffordd Dra-ragorol" at Capel Mawr Denbigh, a lecture given only by men of the Connexion who have distinguished themselves as ministers and scholars.

In June 1952, at Anfield Road Chapel Liverpool, the General Assembly of the Connexion bestowed upon him its greatest honour when he was installed as President of the Presbyterian Connexion. He was due to deliver a valedictory address in June of this year. To commemorate this occasion, the members of Anfield Road Chapel invited Mr Beynon to preach there on 18th January: and despite his failing health he undertook the long journey to Liverpool.

As Moderator he was to represent officially the Connexion at the Coronation ceremony next June and a seat had been reserved for him at Westminster Abbey. In the same capacity he had also attended a Royal Garden Party at Buckingham Palace last June.

Among his many officers he held in the Connexion, he was for three years editor of "Y drysoria Fawr", secretary for the Colleges representing the West Glamorgan Welsh Presbytery, a member of the Education Committee of his denomination.

In the literary field, without a doubt, the Rev Robert Beynon was a creative genius. His Crown poem still stands as a model and his contributions to the denominational publications were little gems in thought and expression.

His only published book was "Detholised o'r Salmau" published in 1936 and Wales has suffered a great loss in that he has not published more of his work.

The funeral will be held on Monday next at 3.30pm at Carmel Chapel Abercrave.
The Rev Robert Beynon, and his wife Sarah, who predeceased him, are buried in Carmel Cemetery, Abercrave. The grave is on the left-hand side of the main path as you go up into the cemetery, up towards the farther end.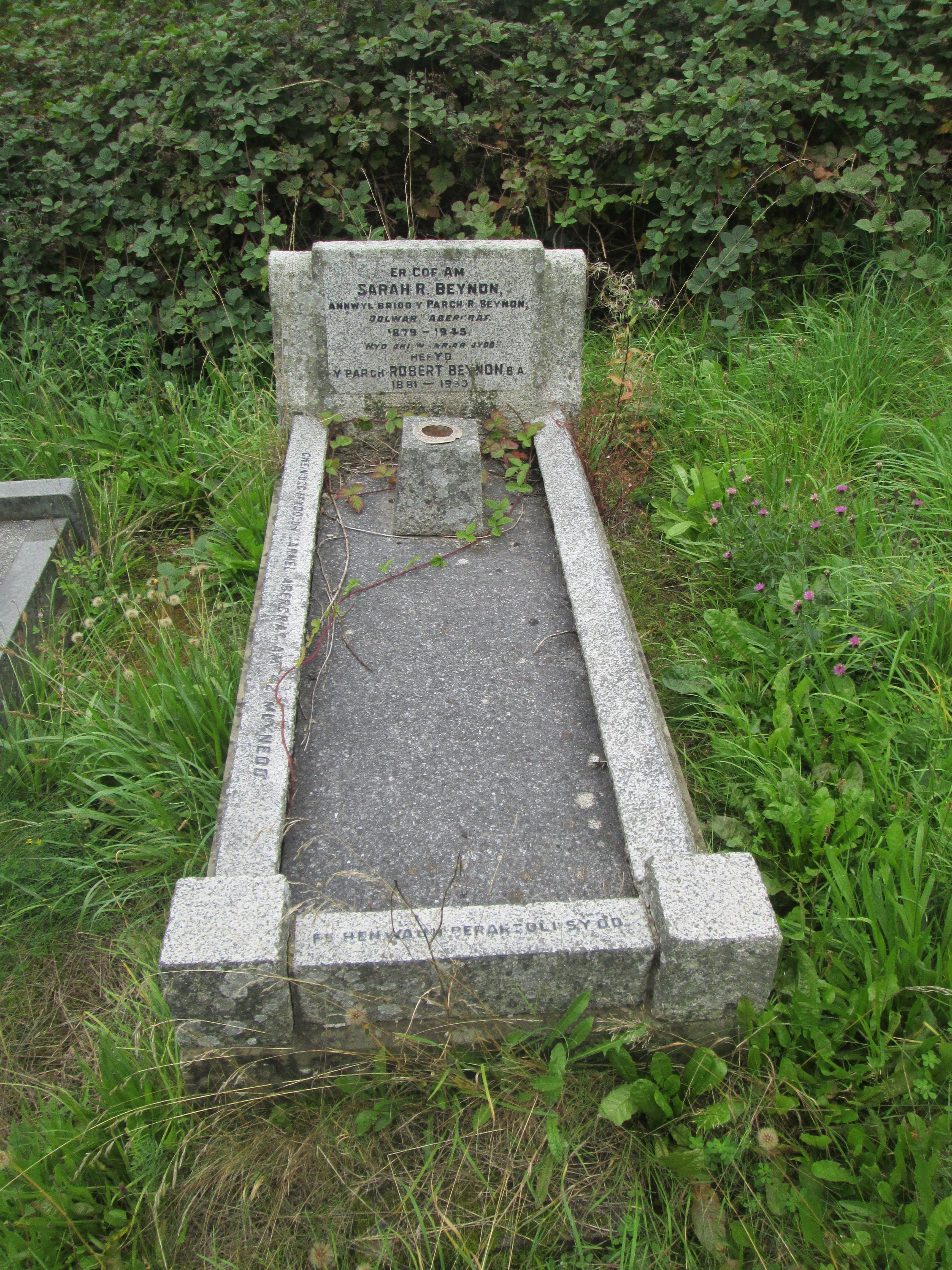 The headstone reads:-

Er cof am
Sarah R Beynon
Annwyl bridd y Parch R Beynon
Dolwar, Abercraf
1879-1945

Hefyd
Y Parch Robert Beynon BA
1881-1953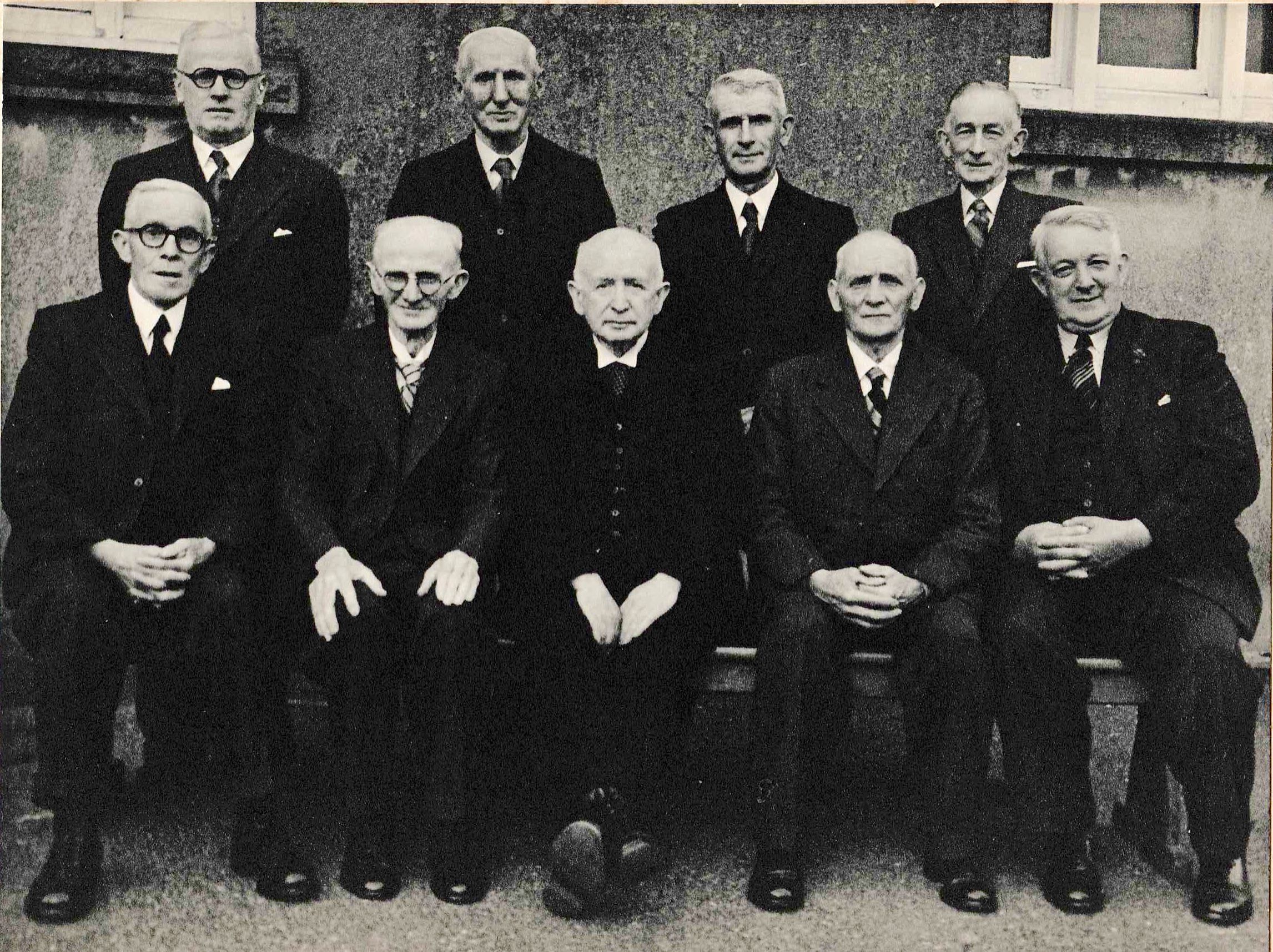 Thank You to Jeff Alexander for this photograph from his family collection, which shows the Rev Robert Beynon in the centre of the front row.
---
See also:-
Main page for Carmel Chapel, Abercrave
Demolition of Carmel Chapel, Abercrave
Graves of Carmel Cemetery