People of Yorath Chapel
Cwmgiedd, Ystradgynlais
This webpage aims to look at the lives and careers of people closely involved with Yorath Chapel, including lay preachers, deacons, and those who ran the Sunday Schools.
From the South Wales Voice Saturday December 2nd 1944 came the news of the death of a deacon of Yorath Chapel:-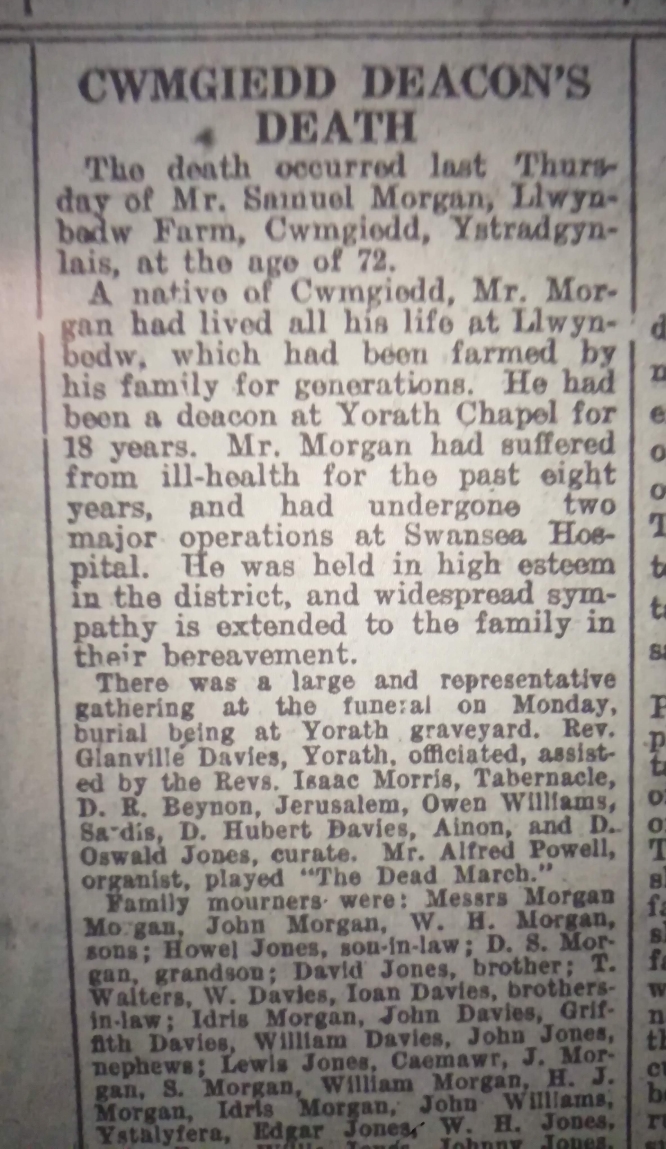 CWMGIEDD'S DEACON'S DEATH

The death occured last Thursday of Mr Samuel Morgan, Llwynbedw Farm, Cwmgiedd, Ystradgynlais, at the age of 72.
A native of Cwmgiedd, Mr Morgan had lived all his life at Llwynbedw, which had been farmed by his family for generations. He had been a deacon at Yorath Chapel for 18 years. Mr Morgan had suffered from ill-health for the past eight years, and had undergone two major operations at Swansea Hospital. He was held in high esteem in the district, and widespread sympathy is extended to the family in their bereavement.
There was a large and representative gathering at the funeral on Monday, burial being at Yorath graveyard. Rev Glanville Davies, Yorath, officiated, assisted by the Revs Isaac Morris, Tabernacle, D.R. Beynon, Jerusalem, Owen Williams, Sardis, D. Hubert Davies, Ainon, and D Oswald Jones, curate. Mr Alfred Powell, organist, played "The Dead March".
Family mourners were: Messrs Morgan Morgan, John Morgan, W.H. Morgan, sons; Howel Hones, son-in-law; D.S. Morgan, grandson; David Jones, brother; T Walters, W Davies, Ioan Davies, brothers-in-law; Idris Morgan, John Davies, Griffith Davies, William Davies, John Jones, nephews; Lewis Jones, Caemawr, J Morgan, S Morgan, William Morhan, H.J. Morgan, Idris Morgan, John Williams, Ystalyfera, Edgar Jones, W.H. Jones, John Rees, Willie Jones, Johnny Jones, W. Davies, Tom Bowen.
At the house were: Mrs Morgan, widow; Mrs Mary Jones, daughter; Misses Magdalene and Betty Ray Morgan, grand-daughters; Mrs Catherine Morgan, Mrs Gwenie Morgan, Mrs Ceinwen Morgan, daughters-in-law; Mrs Prescila Morgan, Mrs H Walters, sisters; Mrs L Morgan, Mrs M Thomas, Miss M.A. Davies, Mrs M.A. Davies, sisters-in-law; Mrs A Daniel, Mrs Cil Jones, Mrs L Morgan, Mrs Jane Purslove, Mrs B Morgan, Mrs C Jones, Mrs C Bowen, Mrs R George, Mrs R Davies, Mrs M Thomas, Missses Hannah and Jane Morgan, Mrs John Rees, Mrs Griffith Williams, Mrs Ellen Powell, Mrs G Jones, Mrs M Griffiths and Mrs Bishop.
Floral tributes were from: el weddw a'l ehwaer Nan; Morgan a Gweni; John a Catherine; Howel a Mary; William a Ceinie; Sister Hannah and family; Betty Ray; Margaret Thomas a'r plant, Gowerton; Prescila a'r teuiu; Tom a Harriet, Bridgend; Griff, Minnie a Glyn; Tom a Danny Williams; Mr and Mrs W.C. Jones a Albert, The Firs; William Alexander a'r teulu; staff of Penrhos Council School; all at 18 Drefian.
Bearers were the following deacons of Yorath Chapel: Messrs Rhys H. Powell, John Morgan, Thomas Williams, and Howell Powell.
Mr Gomer D. Lodwick was the undertaker.
---
The Voice newspaper, 18th November 1965, reports on the departure of a member of Yorath Chapel who was also a well-known lay preacher in other chapels in the Swansea Valley:-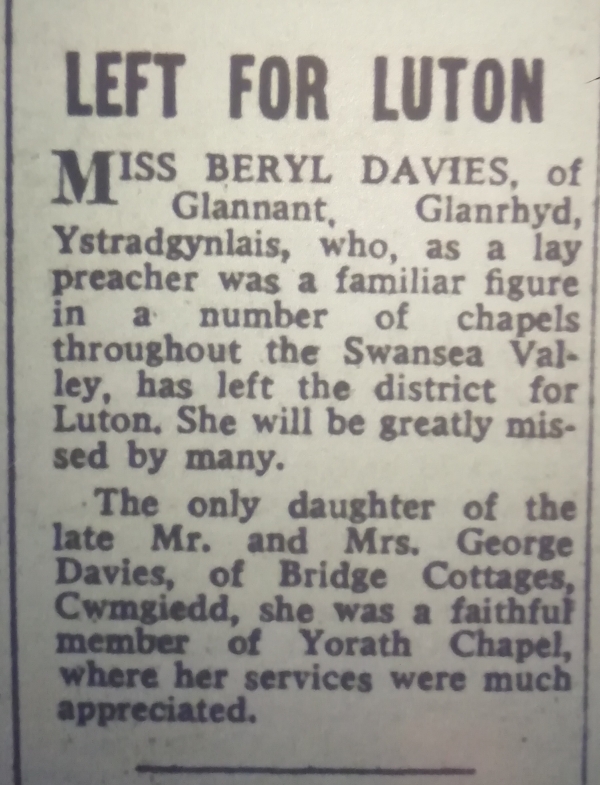 LEFT FOR LUTON

Miss Beryl Davies, of Glannant, Glanrhyd, Ystradgynlais, who, as a lay preacher was a familiar figure in a number of chapels throughout the Swansea Valley, has left the district for Luton. She will be greatly missed by many.
The only daughter of the late Mr and Mrs George Davies, of Bridge Cottages, Cwmgiedd, she was a faithful member of Yorath Chapel, where her services were much appreciated.